Latest news
Contact us
ADD: Sanyuan Road 3#, New-hi Tech Zone, Luoyang, China
TEL: +86-18937970107
FAX: +86-379-62708625
E-mail: info@rigiabearing.com
> CSF Harmonic Drive Gear Head bearing for harmonic reducer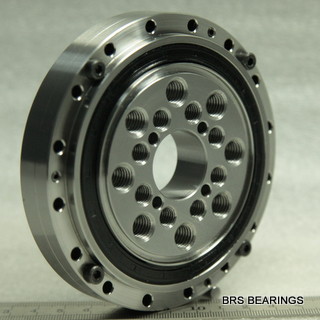 CSF32-XRB Harmonic Reducer Driver Bearing
Structure:Crossed Roller Bearing
Gear teeth: without
Seals type:2RS
Material: 52100/100Cr6/GCr15
Product description: Harmonic Reducer Drive Bearing CSF32-XRB(26*112*22.5mm), is a kind of cross roller bearing, it's used on harmonic reducer. Besides CSF Series, SHF14 SHF17 SHF20 SHF25 SHF32 SHF40 SHF45 SHF50 SHF58 als
Product introduction
BRS Harmonic Reducer Drive Bearing CSF-XRB Series
Harmonic reducer drive is a special form of power transmission, it has the advantage of high transmission ratio, high precision, high loading capacity, high efficiency with light weight and small size compared with conventional transmission mode.

BRS CSF-XRB series crossed roller bearing is specially designed for CSF harmonic reducer. Its outer ring is separable and inner ring adopt integrated structure. Both inner ring and outer ring are processed with many precision holes for connecting with working parts.

Application
BRS Harmonic reducer bearing has a wide range of application in electronics industry, industrial automation, industrial robots, packaging machines, printing machines, and medical equipments because of its high precision, high rigidity and high transmission ratio.

Luoyang BRS Bearing Co.,Ltd developed and produced CSF-XRB series harmonic reducer drive bearing, and focus on products' continuous improvement. BRS Harmonic Reducer Bearing CSF-XRB Series is characterized by high precision, compact structure, good sealing effect, high loading capacity and high rigidity. It's popular in domestic market, and also got favorable reputation from customers of Taiwan, Southeast Asia and Europe. To learn CSF32-XRB's price, detailed parameters, usage and installation, maintanence or other infomation please contact us.

Harmonic Reducer Bearing CSF32-XRB Parameters
d
26 mm
D
112 mm
H
22.5 mm
D1
104 mm
PCD
D2
55 mm
PCD
D3
40 mm
PCD
φ1
16-φ4.5
Mounting Hole
φ2
8-M10
Mounting Hole
φ3
8-M8
Mounting Hole
Mass
1.74 kg